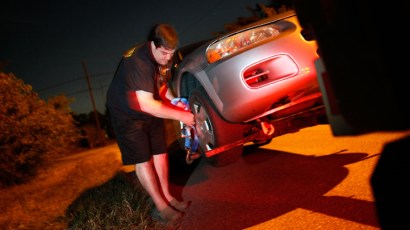 Here's the story from NBC Miami:
The life of a repo man is always intense, but it nearly turned deadly for a Miami agent who was just doing his job.
Police say an armed man started shooting at a tow truck driver when he realized his Infiniti M-35 was being repossessed Wednesday night in Hialeah.
The victim, identified by police as 28-year-old William Delvalle suffered bullet wounds to his torso and was taken to Jackson Memorial Hospital in serious condition.
Police say Delvalle took the bullet for his wife, who was driving the tow truck as it was driving away from the shooting suspect.
Police said the alleged gunman, Vladimir Perez Niebla, 35, has been charged with two counts of attempted murder.
The shooting happened just before 10 p.m. in the area of Palm Ave. and 23rd St.
Delvalle had already hitched the car up to the tow truck and was driving off when Niebla gave chase on foot. Niebla was able to catch up to the tow truck and get inside his car to pull out his semi-automatic pistol.
He then fired several shots at the truck. Delvalle, sensing his wife was in mortal danger, pulled her into the passenger seat and jumped behind the wheel. That's when a bullet hit him in the back, police said.
Niebla told police he shot several times in the air to "scare" the repossession agent into letting him keep his car.